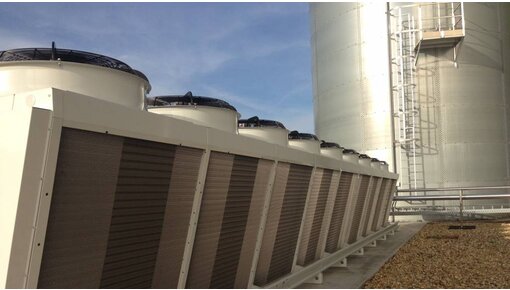 (Mono) Propylene Glycol
Ready-to-use propylene glycol and mixtures of propylene glycol and demineralized water. Available in 25L canister or 1000L IBC container. Can be used as heat transfer medium or antifreeze. Also applicable for the food industry!
Read more
What is Propylene Glycol used for?
Propylene glycol is used in the refrigeration, air conditioning and food/beverage industry for cooling of refrigeration systems. Glycol ensures that your refrigerators or freezers last longer and are not affected by factors such as rust and lime scale. Without the use of glycol, the service life of your equipment is significantly reduced.
Propylene Glycol can be used in the food and beverage industry, as long as it does not come in contact with the products. In case it does come in contact, you will need the Food-Safe Propylene Glycol.
Applications of Propylene Glycol
Pure or diluted coolant based on propylene glycol is suitable for use in almost all types of cooling systems. Glycol.eu's glycols contain additives to prevent rust and lime formation, which considerably extend the service life of the equipment and ensure the continuity of the process to a high degree. The liquid can be easily added to systems that are already equipped with a glycol-based coolant. Axti Temp P is colorless / transparent as standard, but can also be supplied in blue and red (on request).
Instructions for use
The undiluted product offers frost protection up to approx. -57°C. (You can also use a diluted mixture, when your required frost protection is less than -57°C.) When restarting, empty the entire system and clean or rinse it thoroughly. Then add the desired amount of glycol. Let the system slowly come up to operating temperature and let the air bubbles escape. If necessary, refill the system to the desired level.
Diluted Mixtures (ready-to-go)
30% Product - 70% demineralized water = Protection up to -13 degrees Celsius
40% Product - 60% demineralized water = Protection up to -21 degrees Celsius
50% Product - 50% demineralized water = Protection up to -33 degrees Celsius
Buy Propylene Glycol
At Glycol you are at the right address to buy propylene glycol. We have various types in stock, such as the ready-to-use glycol mixture of propylene glycol (40%) and demineralised water (60%) and the ready-to-use propylene glycol (100%).
Would you like more information or are you interested in ethylene glycol? Then contact us without obligation. Our specialists are at your service.