Payment Methods
The possible payment methods are listed below: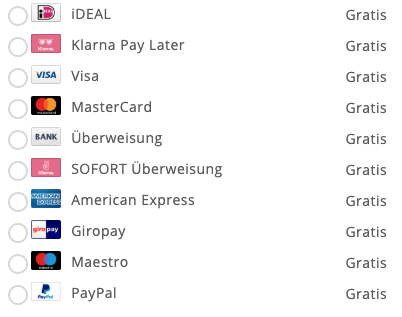 How can I order on account?
If you cannot pay directly on behalf of your company, we recommend using bank transfer. This way you can place orders without the need for a company debit card. You will then receive a payment link by e-mail, which you can forward to your employer's administration.
Order on account with Klarna
Klarna is a Swedish payment provider that handles invoice and installment purchases for its customers. Stores can offer payment through Klarna, enabling customers to pay on account. This is how it works:
When paying, choose "Klarna invoice" as the method of payment.
Enter all additional data.
After the direct data check you will receive a confirmation.
You will receive the invoice by e-mail or with the delivery in a package.
Pay within 14 days.